Mentioned may be no stranger to the stabilizer, from the earliest known as the "senior self-stick" to be known to the majority of friends, of which sevenoak as the industry's top manufacturers, the flagship product of each year, on behalf of the walk in the industry.
  Sevenoak launched ultra-durable camera stabilizer, long life and strong stability after the rise of sports camera, and later became friends of the plagiarism of the object, so far put it is still a super competitive one Product
  The success of the sports Camera stabilizer also seems to give the sevenoak some confidence, just a year after the introduction of the industry-leading mobile phone stabilizer. Received favorable to consumers friends
  And this sevenoak joined the high-precision dial, which makes go to the third generation of sevenoak cell phone Camera stabilizer, cell phone has not only stabilized, the manual mode to adjust cell phone photography through the stabilizer is the first time in history , But also a step closer to the phone and micro-single closer.
  With sevenoak camera stabilizer, also supports dial wheel focus, delay, delay mobile, long exposure ...
  Overall, this sevenoak third-generation mobile phone stabilizer, all-metal body and more durable battery life, you can use the stabilizer to achieve manual mode without touching the phone, this innovation may once again refresh the stabilizer industry recording.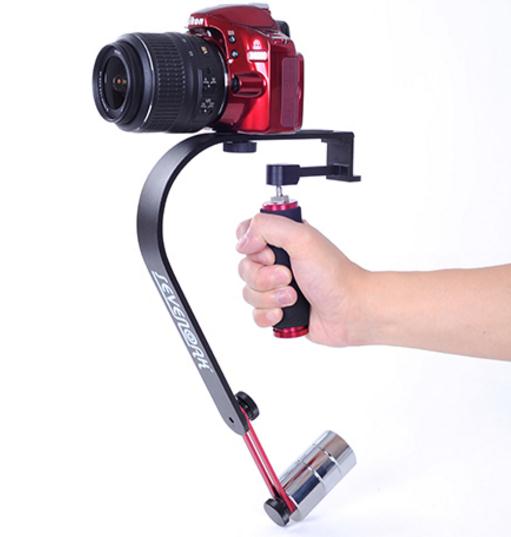 Sevenoak SK-W02 Handheld Grip Video Steadycam Stabilizer Support up to 2.2 lbs for DSLR Camera Canon EOS T6 Sony DV Nikon D3300 D3400 Camcorders
  Supports cameras with 1/4 screw, 4/3 cameras, DVs, cell phones and light weight DSLR up to 2.2lbs(1kg)
  Built with Aluminum construction and stainless steel counter-weight (Can add or reduce according to the weight of your device)
  With comfortable grip handle for fatigue and shake reduce, support up to 2.2 lb.
  Built in spirit level make it very easy to identify its balance
  Super gimbal for smooth and flexible motion
IF you want to know more about sevenoak camera slider,