SevenOak SK-W08 Mini Camera  Stabilizer Gimbal for Compact Cameras, Gopro Smartphones
  Sevenoak Mini Action Stabilizer SK-W08 is a compact, ultra-light camera stabilizer that uses counterweights and gimbal action to help you keep your camera steady when shooting video.
  A super-smooth gimbal and adjustable counterweight help keep the camera balance and stable, and a bubble level is built in to check the camera's balance.
  The Gimbal eliminates distracting camera movement for smoother, more professional-looking movies and the comfortable padded hand grip minimizes fatigue
  Features: Camera Stabilizer camera to minimize camera shake / Super-smooth gimbal / Adjustable counterbalance weights / Bubble level
  Compatible with Gopro and other action cameras / Compatible with smart phones by adding other mounting devices / Maximum weight capacity: 0.5 KG
  The DSLR Camera Rig is a fully adjustable for comfortable shooting in many situations.
  It works with all DSLR Cameras, all small camcorders and all video cameras (except full size shoulder mount video cameras).
  The video camera or DSLR Camera Rig can be moved forwards and backwards on the 15 mm rail and locked into position.
  The video camera or DSLR camera can be adjusted to the left or right allowing you to place the viewfinder or LCD directly in front of you.
  The camera mounting plate has a slot so you can move the camera forwards and backwards.
  Sevenoak Camera stabilizer SK-W02
  Features:
  Supports up to 1KG;
  Comfortable handle grip;
  Super-smooth gimbal;
  Adjustable counter weight;
  Spirit level;
  Lightweight and compact;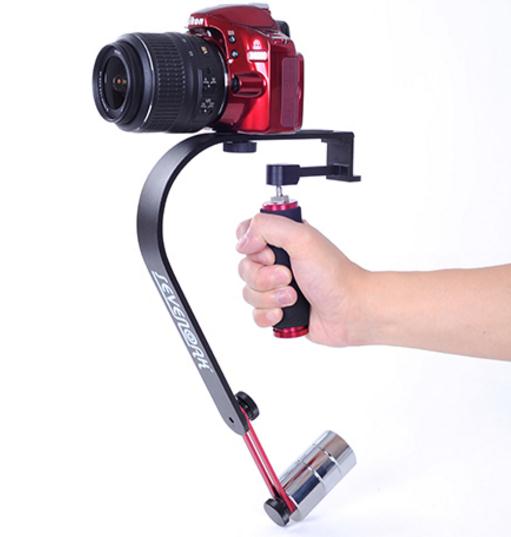 All of the adjustments are done with out any tools. You simply loosen or tighten the L shaped thumbscrews to make adjustments.
  We have modified the shoulder rest for a more comfortable fit.
  All rails are industry standard 15mm rails allowing you to mount a variety of accessories to the DSLR Camera Rig.
      More information about sevenoakCamera slider, camera slider,